Adventure - FH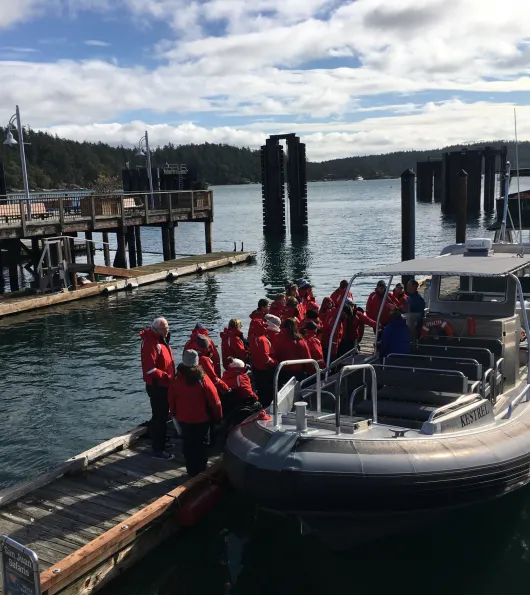 For Those Seeking Thrills
Adventure With Us
Our Adventure Whale Watch & Wildlife Tour is on the M/V Kestrel and is based out of Friday Harbor on San Juan Island.
The M/V Kestrel is a RIB (ridged inflatable) zodiac style vessel that cruises the waters around San Juan Island at an impressive 35 knots. The Adventure Tour is 3 hours long and gives you the best chances to see all that the San Juans have to offer. Keep cozy and warm while traveling at high speeds in a provided exposure suit. A Marine Naturalist on board will answer any questions and teach you about the local wildlife, ecology, and geology. Experience the thrill and adventure of exploring the waters around San Juan Island at high speeds in search of orcas, seals, bald eagles, sea lions, porpoise, and much more!
What To Expect
The Kestrel is San Juan Safaris' smallest and fastest boat built in 2015. At 34ft, this rigid inflatable-style vessel is unlike any other on San Juan Island! The longer length and heavier hull gives a smooth and steady ride, even at high speeds. Kestrel has open-air bench seating for up to 28 passengers per the US Coast Guard. To make sure there is plenty of seat space, Kestrel never goes out with more than 22 passengers on a public tour. Guests remain seated on one of the comfortable bench seats while in motion, but a wide aisle way around the entire boat allows you to stand up and move around when viewing whales and wildlife. Kestrel also has the convenience of a restroom on board.
Trip Highlights:
Experience the San Juan Islands' wildlife at high speeds
Keep warm in our provided exposure suits.
Public tour with a private, small group feel. 
Get one on one attention from our experienced captains and marine naturalists on board.
As close to water's level wildlife viewing as you can get!
Enjoy scenic views of the surrounding islands' landscape, seasonal abundance and plentiful wildlife!
Getting Here
Traveling to the San Juan Islands
What to bring
Make sure you bring all of the essentials
Whale watching FAQ
Answers to some common questions
Why Us?
Dive into our history and team
Around the island
Things in our spectacular hometown
Conservation
Our commitment to the environment